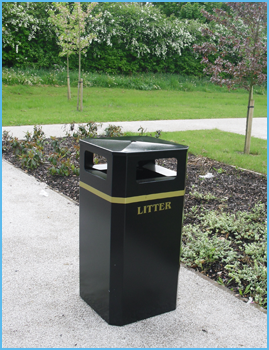 Litter bins for parks, public spaces and other outdoor areas in Ireland come in a wide range of shapes and sizes. Bin sizes can range from 50 litres right up to 120 litres and various bin shapes include rounded, square, apex topped, dome topped and slim line - just to name a few.
What type of litter bin is best suited to a space will depend on the type of litter that needs to be disposed of, the space available and the aesthetics of the surrounding area.
A large heavy duty litter bin would be suited to popular public parks that see a lot of footfall. A small bin in such an area would soon be over-flowing with rubbish and be a safety hazard as well as an eye sore for park users. Slim line litter bins are well suited to busy shopping streets or any place where space is at a premium and where rubbish collection occurs on a frequent basis.
Some bins will be designed for the sole purpose of receiving recyclable waste such as plastic bottles or cartons, while other bins have a more multi-purpose design for general waste disposal and may include added extras like built in ashtrays or chewing gum disposal points.
The wide variety means greater choice for those charged with the task of selecting waste disposal for their town centres, shopping areas or parks. It's important for those given this task to make the right decision the first time and avoid waste disposal problems further down the line.
Paragon Products litter bin range
In Ireland, Paragon Products is a leading supplier of litter bins for outdoor areas. The Paragon Products range of outdoor waste disposal units include:
• Sirius Litter Bin
• Heavy Duty Bin
• HD100 Litter Bin
• Dome Top Litter Bin
• Flat Top Litter Bin
• HD Slim Litter Bin
• Apex Top Litter Bin
• HD120 Litter Bin
• HD130 Round Litter Bin
• Pyramid Top 50L Litter Bin
• Pyramid Top Litter Bin (50L or 100L)
For more information contact This email address is being protected from spambots. You need JavaScript enabled to view it.