Company Profile
Taltech Engineering Holdings is a private company established in 1984. Since it's foundation, the company has established a reputation for high quality manufacturing to exacting specifications and at competitive prices. We pursue an active policy on cost avoidance and environmentally friendly production methods and products.
The company also manufactures a range of hygiene related products under the name Paragon Products, we first began manufacturing this range in the early nineties. Since then the company has designed and developed a complete range of Guaranteed Irish Healthcare, Recycling, Outdoor, Office and Hygiene related products.
The company employs 26 people and operates from a two thousand square metre plant, situated on the Jamestown Road, Inchicore, Dublin 8, with easy access to the M50 motorway and all major routes and ports.
Facilities
We manufacture our products completely in house. List of our facilities include;
Computer Automated Laser Cutting Machine
Computer Automated CNC Punching Machines
Automated CADcam System
Large Powder Coating Facility
In House Screening Facility
Technical Sales Department
Engineering/Research & Development Department
Customer Service Department
Maintenance Department
Quality Service & Controls
Our Quality Management System is fully certified by National Quality Assurance Limited to BS EN ISO 9001:2000 Cert No. 9289/1 & we adopt World Class Manufacturing Standards in all aspects of our production, quality, technical sales & customer service
All systems within Taltech Engineering are fully controlled through documented procedures and constant monitoring of those systems to ensure that the customer receives the highest level of quality and service.
All aspects of our manufacturing processes are quality controlled to ensure that the products we produce are of the highest quality.
Sourcing of Raw Materials
We try to source all of our Raw materials locally, we run an active policy on buying Irish where we can
Management Plan Risk Assessment
We have in place multiple quality checks throughout the Production Process of our products. This enables us to catch issues immediately, which ensures consistent quality of service to our Customers.
Through constant Monitoring of the complete Order Process from Receipt of Order to Delivery to Customer and After Sales Service we can ensure a consistently good service to all our customers with a fast response time for any issues.
After Sales Product Support & Maintenance
We provide a 100% full back up service for all of our products from our Engineering Service Department based out of our manufacturing Facility.
We manufacture everything in house, because of this we do not rely on outsourcing any part of our products, which enables us to always provide a 100% fast response back up service for all aspects of our products
Design, Research & Development
We have a dedicated Research & Development Department, which monitors all areas of quality in relation to our current products and introduction of new products.
Over the past 20 years we have gained vast experience and knowledge within the engineering industry, our R & D Department utilities this understanding with the latest design software and equipment to ensure that customers needs are met.
Our design software consists of AutoCAD 2004, which coincides with Solid Edge V19 - Solid Modeling/Surface Modeling 3D Package.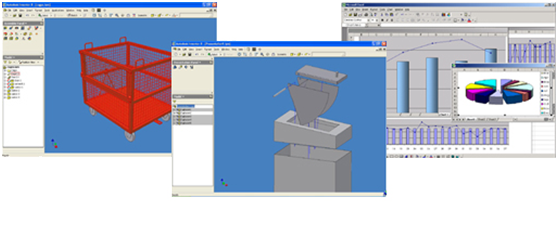 Customer Service
We also have a dedicated Customer Service Department, which deals with all customer queries in general, from our offices in Inchicore, this coincides with our Technical Sales Division which deals with new development, technical issues and sales at the customer site
All of this is quality controlled through our ISO procedures
Environmental Impact
Taltech Engineering is fully compliant with all relevant environmental legislation & we are always striving to reduce any Environmental Impact further.
We currently Recycle 97.5% of our Waste Material, every aspect of our waste is separated for recycling purposes.
Our product packaging is made from 100% Recycled material & we re-use packaging where possible
All packaging is fully recoverable if required by our customers.
We are also a full member of Repak.
Staff Training
All Taltech Engineering staff are put through a rigorous ISO documented training program to ensure that they meet the quality and standards set for each individual area.
Quality standards are monitored on a daily basis through our comprehensive Key Performance Indicator System.
This system ensures that our Customer get the same Quality of Service for every order placed
Order & Delivery System
Customer orders are processed through our ISO Certified system, which ensures that the order is correctly scheduled and the customer is contacted with the relevant information such as dispatch dates etc...
Orders can be received & processed electronically where applicable
Once ready the order is dispatched on a next day service by our licensed carriers. Again this whole process is controlled and documented which ensures that the customer needs are met in relation to quality of product, tracking of orders placed and on time delivery.